Home | Biography | Written Works | Links | Webmaster
My Montana | Portland | Deadly Games | Campaigning Books | Family Heritage Books
---
Portland: People, Politics, and Power - 1851-2001
by Jewel Lansing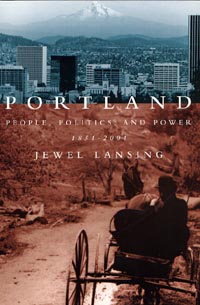 This the definitive book on Portlandís political history, beginning in 1845 when a 16-lot townsite was laid out in the bank of the Willamette River and continuing through the sesquicentennial of Portland city government.

Jewel Lansing has amassed a treasure trove of information on Portlandís civic and political life, which she presents in a lovely volume, organized around accounts of the successive reigns of Portlandís mayors. The story is rich in anecdotes that bring to life the unique individuals and controversial issues of Portlandís distant and more recent past.

Lansing shows that Portlandís path to its present place as the twenty-eighth largest city in the United States, with a deserved reputation as one of the nationís most livable cities, has not always been smooth. Corruption, profiteering, and wide-open vice characterized the City of Roses at the turn of the twentieth century, and every era has had its own controversies and rivalries: disputes over railroad franchises and rights-of-way, womenís suffrage, public versus private power, the Chinese Exclusion Act, Prohibition, and the siting of freeways, to name just a few.

Anyone with an interest in Portland, and in learning more about the individuals, events, and issues that have shaped it, will find this comprehensive history fascinating and informative.


"A fascinating history of Portland. This book is a vast source of information, yet is rich with amusing anecdotes and sparkling stories that bring Portlandís past, from its beginnings to the events and issues of today, to vivid life. Every Portlanderóevery Oregonianóshould read this wonderful book." -- Barbara Roberts, former Governor of Oregon

"Lansingís research is exhaustive, her use of detail impressive, her ability to keep us focused on the central thread outstanding . . . [it is] the best book about the history of Portland." -- Dan Hays, Statesman Journal





Publisher: Oregon State University Press, 2003, 2005
(Hardcover $35.00 / Softcover $22.95)
ISBN-10: 87071-559-3
ISBN-13: 978-0870715594