Home | Biography | Written Works | Links | Webmaster
My Montana | Portland | Deadly Games | Campaigning Books | Family Heritage Books
---
Deadly Games in City Hall
by Jewel Lansing


A Scandalous Murder in the Heart of City Hall . . .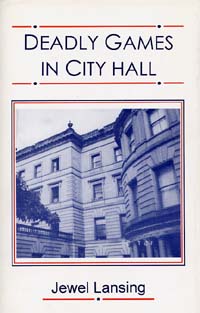 "Deadly Games in City Hall covers all the bases – politics, homosexuality, racism, sexism, graft, medicine, hazardous waste, Hispanic culture, Whitman history, Portland landmarks. A great story, a page turner!" -- The late Dr. Ed Weinstein

"I couldn't put Deadly Games down – I read it all in one sitting! It was so easy to get swept away by the engaging and authentic political and media characters. It is an enthralling mystery full of secrets and intrigue." -- Former Multnomah County Commissioner Tanya Collier

"Deadly Games is a cleverly-woven mystery that entices like a soap opera, full of colorful characters whose lives intersect at fascinating levels. It's a dynamic tale that delivers!" -- Reader Jennifer de Haro

In 2007, Chapter 8 of Deadly Games in City Hall was included in an anthology about Portland -- Reading Portland, The City in Prose, edited by John Trombold and Peter Donahue.




Publisher: Skylark Press, 1997
(Out-of-print)
Library of Congress Catalog Card Number 96-91137

---